Ceremonia de inauguración
2 de noviembre, 10:30-12:00, Salón D del COEX
La ceremonia de inauguración se celebró bajo el alto patrocinio de la Sra. Geun-Hye Park, Presidenta de la República de Corea, quien transmitió un mensaje de felicitación por videoconferencia.
Se desarrolló de la siguiente manera: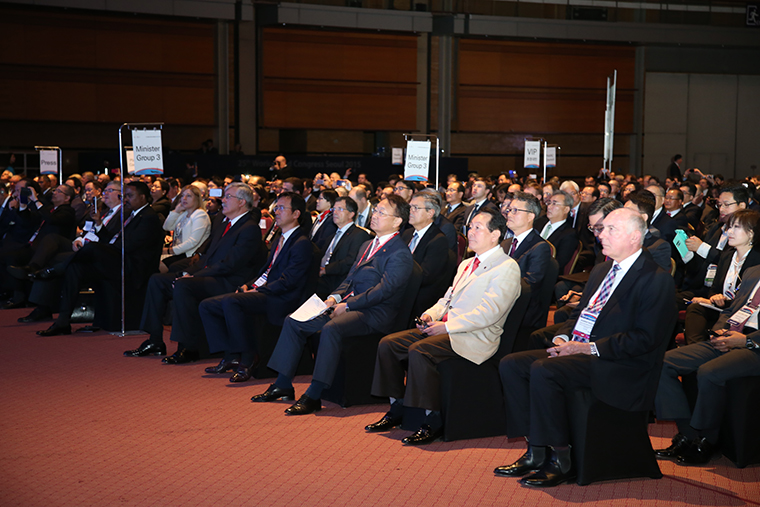 1ª PARTE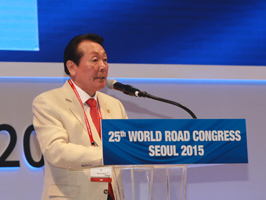 Sr. Hak-Song Kim, Presidente del Comité de Organización Coreano

Ladies and Gentlemen, I am Kim Hak-song, Chairman of the Korean Organizing Committee of the 25th World Road Congress.
The 25th World Road Congress, one of the world's premier international events and the international showcase of the most advanced technologies in the field of roads and road transport, is finally held today. All citizens of the Republic of Korea welcome participants from all around the world in the 5-day event with our arms and hearts wide open.
In particular, I would like to express my deep appreciation to the PIARC President Oscar de Buen Richkarday; members of the Council from Asia, Africa, Europe and America; ExCom members; members of the Korean Organizing Committee of the Seoul Congress; TC advisors; Ministers and Vice Ministers from about 40 countries; and road professionals from about 120 countries who traveled from far away to attend this event.
I would also like to gratefully acknowledge Minister of Land, Infrastructure and Transport Yoo Il-ho, Vice Minister of the Seoul Metropolitan Government Lee Jaewon, who took time out of their tight schedules to grace this occasion with their presence.
And we have so many distinguished guests here who would roll up their sleeves and take on any task for the development of road transport. On behalf of all road professionals, I would like to thank all of you from the bottom of our hearts.
Since its first event taking place in Paris, France in 1908, the World Road Congress has remained as one of the most premier international events in road transport, held every 4 years alternatively in Asia, Africa, Europe and America. The Congress, boasting of its over 100-year long history, has made great contribution to the development of its member nations.
This event has not only helped nations to develop road related technologies and policies tailored to their needs, but also provided a venue to promote cooperation among member nations. Moreover, it provides a forum for all road professionals to pull their wisdom together to come up with suitable solutions to respond to the fast-changing global environment.
This upcoming Seoul Congress will feature various programs under the theme 'Road and Mobility - Creating new value from Transport' for 5 days starting from today. This event will bring together 35,000 road professionals from about 120 countries to discuss the future of the road transport industry. In addition, a number of papers in this field will be presented at 44 sessions and state-of-the-arts road transport technologies and equipment will be displayed at the Exhibition.
Also, participants will have a chance to take a technical tour of the sites equipped with the latest road technologies, such as Incheon Grand Bridge, and there are cultural tours for accompanying persons. In particular, bilateral meetings and one-on-one business meetings during the Congress will provide both national governments and road transport related businesses from around the world with the opportunities to build a global business network.
Taking this opportunity, I express my sincere gratitude to the PIARC Council, Executive Committee and Secretariat for their continued encouragement and support for the success of the 25th World Road Congress Seoul.
The fall is one of the most beautiful and bountiful seasons in Korea. I hope you can take some time to take a look at beautiful places in Seoul and other regions of Korea. This precious experience will help you develop your affection for our country, which will be greatly appreciated by all Koreans.
Dear our road professionals from around the world,
I hope you have a rewarding and happy experience in Seoul, the capital city of Korea.
Thank you.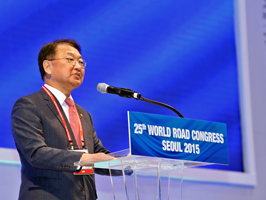 Sr. Il-Ho Yoo, Ministro de Ordenación del Territorio, Infraestructuras y Transportes de la República de Corea
Honorable Mr. Oscar de Buen Richkardy, President of the World Road Association
I would like to extend my sincere welcome to Ministers, Vice Ministers and road transport professionals for visiting the Republic of Korea from around the World. I am deeply grateful to all of you for joining us at the 25th World Road Congress despite the busy schedule.
It is a great honor to hold the 25th World Road Congress in Seoul.
Distinguished guests!
It would not be too much to say that the human history has developed through advances in road transport. As you may be well aware, the remarkable economic development of the Republic of Korea started with road construction.
With the foundation laid by the Gyeongbu Expressway, Korea transformed itself from one of the poorest countries in the world to the world's 10th largest economy. Today Korea has the cutting-edge road technology, including super long-span bridge and smart highway technologies.
However, with the world rapidly changing, there are still a long way to go. The Smartphone ushered in an era where we can recognize what's happening on the other side of the world in real time.
Unprecedented technology revolutions, including drones and unmaned vehicles, are taking place.
The road of the future should be reinvented as a road with new concepts through the convergence of revolutionary technologies.
In that respect, today's occasion is very precious for all of us.
The world's best road transport experts assemble here to discuss where the road should go.
I hope that new values will be created from road transport and spread to every corner in the world.
Distinguished guests!
I hope that this Congress will provide a good opportunity to experience not only the cutting-edge technology, including KTX and U-city, but also Korea's culture and history.
I hope you will keep fond and enjoyable memories of Korea during the Congress as well.
Before concluding my speech, I would like to extend my profound gratitude to Mr. Kim Hak-song, Chairman of the Korea Organizing Committee of the 25th World Road Congress, Mr. Lee Je-won, Deputy Mayor of Seoul Metropolitan Government and the staff members for doing their utmost best for the success of the Congress.
Thank you.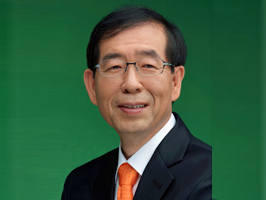 Sr. Won Soon Park, Alcalde de Seúl

Good morning, I am Park Won-soon, Mayor of Seoul Metropolitan Government. I would like to extend my welcome and gratitude to Excellencies, honorable Mr. Oscar de Buen Richkarday, President of the World Road Association, and distinguished guests for being here with us at the 25th World Road Congress held in Seoul.
It is a great honor for Seoul to hold the World Road Congress, which boasts its long history and tradition.
It is not too much to say that Seoul's competitiveness that shines in the world has been created by the "road". During the rapid growth period, the modern road network in Seoul was gradually completed and has driven the development of politics, economy, society and culture. In just half a century, Seoul was able to emerge as a global city.
Now the value of the road goes beyond the primary means of transportation. The road is transformed into a space, which creates new economic, cultural and social values.
For instance, through "Seoul Station Overpass 7017 Project"and space reorganization of "National Assembly Main Street"and "Seobu Expressway", the Seoul Metropolitan Government has made efforts to transform Seoul into a city where people and nature exist together, people's quality of life is improving and happiness is growing.
I am confident that this Congress will provide a platform to share and communicate changing values, policies and technologies of the road.
I would like to extend my appreciation to all of you for joining us at the 25th World Road Congress. I hope that you will find the Congress fruitful. I also hope that you will enjoy various cultural programs we specially prepared and enjoy to the fullest the charm of beautiful Seoul. Thank you.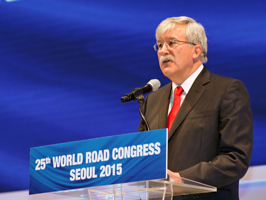 Sr. Oscar de Buen Richkarday, Presidente de la Asociación Mundial de la Carretera
Mr. President of the Korean Organizing Committee:
Members of the WRA council:
Dear delegates:
Welcome to the xxv World Road Congress!
On behalf of the World Road Association, let me first of all thank our Korean hosts, and in particular the Korean authorities and the Korean Organizing Committee, for their efforts and commitment in organizing this magnificent event.
The superb venue that has been selected to host the congress, and the quality and friendliness of the staff of the organization provide a great background for the activities of the congress and will only add to its success.
The worldwide road community is happy to meet here in Seoul, republic of Korea, to participate in this XXV World Road Congress. Being in the city of Seoul and its surroundings has helped us to admire the rapid development of Korea and the significant achievements it has attained in building, maintaining and operating a state of the art road network for the benefit of the Korean people.
The World Road Association provides a forum for the permanent identification, debate and information exchange on topics of interest in the fields of roads and road transportation. Active since 1909, when it was founded in Paris to help sustain an orderly development of road infrastructure and networks, the association now benefits from the active participation of 122 member countries that regularly exchange information on roads.
Throughout time, the association has been successful in establishing and maintaining a working structure based on collaboration from the member countries. It has also been able to react to their changing interests, needs and priorities, thus ensuring that its products, reports, seminars and congresses timely address issues of concern and provide value to the road community worldwide.
During the past years, the association has made strong efforts to develop or participate, together with other interested stakeholders, in the development of resources and tools that can help support road professionals worldwide and ensure that road systems provide quality services while being sustainable and sensible to social concerns.
Major examples of such developments include web-based tools and references such as the Road Safety Manual, which will be launched here in Seoul, the Road Network Operations/ITS manual, the second edition of the Manual on Road Tunnels, the Snow and Ice Data Book, and the continuous support provided to the HDM-4 model.
A few days ago, the council of the association approved the strategic plan 2016-2019, a document that will provide guidance to the work of the association during the next four years and that will ensure that it remains at the forefront of knowledge and information exchange in this very dynamic world of roads and mobility.
Dear delegates:
As every four years, we are opening another world road congress. Just like in the past, the five-day congress program will offer you varied opportunities to gain insights, up to date knowledge and exchange views on multiple fields in the world of roads.
The minister´s session, the 14 special sessions on selected topics, the 17 sessions in which the results of the work of the technical committees will be presented, the four strategic direction sessions that will address emerging topics for the future, and the three keynote speeches by distinguished speakers will all offer a comprehensive view of current developments and concerns in roads. We trust that you will find them instructive and meeting your expectations.
At the same time, please do not forget that a major exhibition with more than one hundred pavilions will run in parallel with the congress. At the exhibition, which will open this evening, you will find information and contacts on countries, NGOs and private firms active in the road sector. In particular, the exhibition features a WRA pavilion where you will be able to find more information on our association and the services it provides. We look forward to see you there.
To finalize this speech, let me welcome you all to the XXV World Road Congress in Seoul. Let me again thank the Korean Organizing Committee for the organization of the congress and thank you all for being here.
I wish you a fruitful congress week and a good stay in Seoul.
Thank you very much.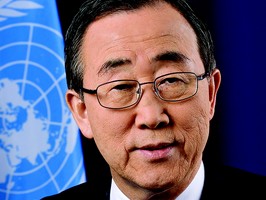 Mensaje de felicitación del Sr. Ban Ki-Moon, Secretario General de las Naciones Unida, leído por el Sr. Jean-François Corté, Secretario General de la Asociación Mundial de la Carretera

UN secretary general's welcome message at the opening session

MESSAGE FOR THE 25TH WORLD ROAD CONGRESS
Seoul, 2 - 6 November 2015
I am pleased to greet the 25th World Road Congress. I thank the Ministry of Land Transport and Maritime Affairs of Korea for co-organizing this important event.
You gather just weeks after world leaders adopted the 2030 Agenda for Sustainable Development -- a new global plan that seeks to end poverty and ensure prosperity for all on a healthy planet.
Sustainable transport will play a key role in achieving our objectives. Transport-related targets are included in many of the 17 Sustainable Development Goals.
I welcome your efforts, as part of the Decade of Action for Road Safety launched by the World Health Organization, to provide new safety-related information to the road community.
I also commend the work of the road sector to adapt to the new conditions associated with climate change, such as excessive heat, prolonged drought and extreme weather events. And your research on low-carbon road transport systems can contribute to the debate as we strive for a strong agreement at the COP 21 climate conference in Paris that opens on 30 November.
To achieve the SDGs, it is imperative that developed countries share their knowledge and technology with developing countries. Your Association continued to demonstrate admirable commitment in this regard, and I encourage you to continue working together.
Thank you again for supporting the work of the United Nations. Please accept my best wishes for a productive week.
Sra. Geun-Hye Park, Presidenta de la República de Corea

I would like to extend my congratulations on the holding of the 25th World Road Congress. I welcome delegations from around the world to Korea.
It is very meaningful for Korea to hold the World Road Congress, which has played a key role over the past 100 years in the international exchange and cooperation in the road transport sector.
The road has facilitated the movement of people and goods and the communication among regions as the national infrastructure and the foundation for our daily lives and economic development.
In the early days of industrialization, Korea laid the foundation for its economic growth by constructing expressways. Now the country reached the stage of operating the advanced transport system, including Intelligent Transport System, or ITS.
I believe that the road should go beyond its function as the means of transport to create new future values.
There is a need to construct a road integrated with the cutting-edge ICT to enable autonomous driving and Smart Highway and to build international road networks for cross-border communications.
I hope that the 25th World Road Congress provides a platform to share the state-of-the-art technologies and experiences of the countries, and will bear fruits for the development of relevant technologies and policies.
I would like to congratulate on the hosting of the 25th World Road Congress again and wish you all health, happiness prosperity.
2ª PARTE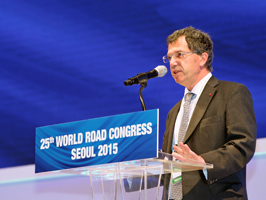 Sr. Jean-François Corté, Secretario General de la Asociación Mundial de la Carretera
Introducción al programa del Congreso por el Sr. Jean-François Corté, Secretario General de la Asociación Mundial de la Carretera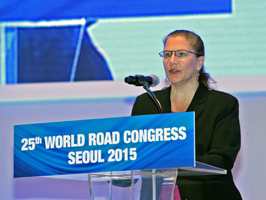 Sra. Jane Weldon, Presidenta de la Comisión de Comunicación de la Asociación Mundial de la Carretera
Jane Weldon (Canada), Chair of the World Road Association Commission on Communication. Chair of the PIARC Prizes 2015 Jury
Lina Sofia Engström (Sweden), PIARC Technical Advisor 2014-2015
The World Road Association Prize Competition aims to promote professional excellence, research, innovation and applications that demonstrate great interest and success in all areas of road and road transport, particularly relating to safety, the challenges of sustainable development and improving the efficiency of road transport.
In the following pages you will learn a little bit about the papers through articles written by each of our winners. But first, some information about the prizes and our process.
Our Sponsors
The prizes were divided into eight categories with countries sponsoring each one: Young professionals/Mexico - Developing countries/Japan - Safety of road users and road workers/Australia-New Zealand - Sustainable development/Andorra - Road design and road construction/Belgium - Road maintenance and operation/Saudi Arabia - Roads and intermodality/Canada-Quebec - Maurice Milne prize for innovation/United Kingdom.
Our Jury
The international jury consisted of 9 individuals from 8 countries and was chaired by the Chair of the Communications Commission, Ms. Jane Weldon. The members of the jury were representatives of the countries that sponsored the different prizes along with secretariat support.
The Process
A call for papers for the Seoul Congress was issued and the technical committees put forward the best papers received in each category. National Committees were also given an opportunity to solicit papers – both Finland Mexico submitted papers. Thirty-two papers from twenty-four countries were considered worthy of consideration by the international jury.
Our jury members first established criteria for reviewing and assessing the papers, then conducted a review and debate in order to arrive at a consensus about our winners.
The papers were assessed with respect to innovation, scientific value and practical applicability/interest on the basis of the following criteria:
Excellence: reflecting notable work by an experienced professional(s) or research into new ideas by a young professional(s).
Innovation: drawing attention to notable discoveries and encouraging specific solutions or ideas.
Applicability: encouraging the dissemination of research and best practices throughout the world.
Practicality: ideas which currently have or are likely in the future to have practical application while at the same time encouraging innovation and new thinking.
Multidisciplinary: the rules encourage consideration of the topics by a wide range of skills such as engineering, economics, social, environmental sciences, and so on.
Balance: transport is an increasingly complex sector and so consideration should be given to the relationship between the different modes of transport.
Following these deliberations, prizes were awarded in seven of our eight categories. The corresponding communications are presented in these Routes/Roads features.
Young professionals
Proactive management of slope hazards - Waioeka Gorge pilot study, page xx
Mrs. Catherine Roh, New Zealand
Developing countries
Taking decisions in the rehabilitation of flexible pavements based on non-destructive measurements, page xx
Mr. Carlos Andrade Neto and Mr. Jorge Rufino, Angola; Mr. Iván Machado, Cuba
Safety of road users and road workers
Justifying road safety investments for locations without collisions by quantifying road safety risk, page xx
Mr. Paul de Leur, Mr. David Hill, Canada
Sustainable development
Pilot project to quantifying social benefits of road rehabilitation for project prioritization, page xx
Mr. Toni-Petteri Paju, Finland and Mr. Kenneth Yamu, Papua New Guinea
Road design and road construction
The accuracy of ex-ante cost benefit analysis – evidence from the Norwegian road sector, page xx
Mrs. Anne Kjerkreit, Mr. James Odeck, Norway
Road maintenance and operation
Risk management in action on Queensland's reconstruction program, page xx
Mr. David Hinds, Australia
Roads and Intermodality
Revolutionizing personal mobility by offering mobility as one full service, page xx
Mrs. Sonja Heikkilä, Finland
One prize, the Maurice Milne prize for innovation was not awarded this cycle as the jury did not feel any of the papers met the criteria that had been set out.
Certificates of Merit
In some categories, the entries were so strong that the jury decided to issue certificates of merit to honour the contributions of the authors. These were:
Developing countries
The use of natural additives for the development of warm asphalt mixtures in Cuba
Mr. Anadelys Alonso Aenlle, Mr. Eduardo Tejeda Piusseaut, Mr. Reynier Moll Martínez, Cuba
Safety of road users and road workers
Road Safety Impact Bonds - the financial business case
Mr. Rob McInerney, Mr. Hafez Alavi, Mr. Bill Bui, Mr. Dean Hislop, Australia
Sustainable development
The Winter Model – Socio-economic cost calculations for the future
Mrs. Anna Arvidsson, Sweden
Road design and construction
New analytical design approach for thin surfaced asphalt pavements
Mrs. Sabine Werkmeister, Mr. Frohmut Wellner, Mr. Gustavo Canon Falla, Mr. Markus Oeser, Germany
Road maintenance and operation
A Study on lane change impacts of van on expressway bus lane in Korea
Mr. Seungkirl Baek, Mr. DongHee Han, Mr. MinSoo Kim, Korea
Road maintenance and operation
Asset Management of Honshu-Shikoku Bridges
Mr. Kazunori Yamaguchi, Mr. Akira Moriyama, Japan
Road maintenance and operation
A comparative study of sustainability tools to assess an asphalt road pavement's life cycle
Mr. Johan Maeck, Belgium
These articles will be presented in Routes/Roads 369/370, to be published in April 2016.