Ceremonia de clausura
6 de noviembre, 14h00-15h30, Salón D del COEX
La ceremonia de clausura incluyó un resumen de los momentos destacados del Congreso y una presentación del Plan estratégico 2016-2019, que orientará las actividades de la Asociación Mundial de la Carretera en los cuatro años venideros.
El país anfitrión del próximo Congreso Mundial de la Carretera, Emiratos Árabes Unidos (Abu Dabi), invitó a los delegados a descubrir sus innovaciones durante la entrega oficial del Congreso por parte de la asociación.
La ceremonia de clausura se desarrolló de la siguiente manera: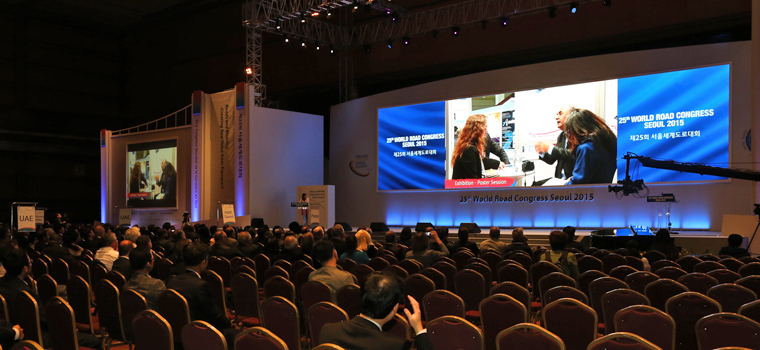 Síntesis de las conclusiones del Congreso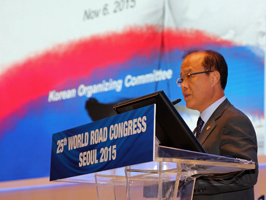 Síntesis de las conclusiones del Congreso, a cargo del Sr. Kyung-Soo Yoo, Secretario General de KOC
For the last few days, we have made a tremendous amount of efforts to find ways to upgrade the function of the roads through creating new values from transport. Experts, business people and government officials from 98 countries gathered together and shared their knowledge and technologies, experiences and practices, and products, taking advantage of various sessions.
I could say that the most prominent event of the congress is the Ministers' Session in which ministers or vice ministers from 35 countries participated. The grand theme of the session is 'Evolution of Road Policies for the Next Generation'. The participating ministers and vice ministers, divided into three groups, were given opportunities to speak about the road polices of their respective countries on one of three points of view, such as Sustainable financing, Service improvement, and New technologies.
The first group with the topic 'Sustainable financing' addressed the challenges faced by road industry in the wake of the 2008 global financial crises. In number of countries, public-private partnerships (PPPs) have been identified as a source for mobilizing private resources for the road sector. However, PPPs are complex and can only be applied to limited types of projects. Technological innovations and new socio-economic trends are also opening the way for future financing methods in the road sector. They include extending tolling from isolated facilities to the full network, establishing user-charging models based on actual road use, developing other revenue streams through advertising and innovative services, etc.
In the second group with the topic 'Service improvement', the panelists shared a wide-range of experiences and practices for providing the road user with better services. Major solutions mentioned include improving accessibility and mobility through multi-modal transport, providing timely and reliable traffic information, and securing all-weather roads in rural areas.
The discussions of the third group were centered on the topic 'New technologies'. The group members shared their thoughts and the policies of their own countries on how to make better road system using new technology development. Major future road technologies include ITS, autonomous driving, and road safety related technologies.
As the outcome of the session, the Seoul Ministerial Declaration was adopted. The declaration, for the first time ever in the PIARC's history, will contribute to the evolution of the world road system by enhancing cooperation among member countries.
Next, I would like to highlight the lectures given by the three keynote speakers.
Mr. Kwon Do-Yeop, former Minister of Land, Infrastructure and Maritime Affairs of Korea, insisted that Korea's quality highway network has significantly contributed to the socio-economic development of the country. He emphasized the importance of the will of the top decision makers and social consensus, and securing funds and capable manpower in order to build the national road network.
Mr. Wencai Zhang, vice president of the Asian Development Bank, remarked that Asia would become the largest economic power on the globe in the near future. He pointed out, however, that this part of the world still faces challenges like alleviating poverty and achieving sustainable growth. He highlighted good-quality transportation infrastructure as one of the main factors to solve the problem, and the need of collaboration between public and private sector financing.
The chief executive officer of the Renault-Samsung Motors, Mr. François PROVOST spoke on the topic which is 'Sustainable Transportation with Electric Vehicle and Micro Mobility'. He put an emphasis on the need to reduce carbon emissions and resulting greenhouse gases, which are fundamental problems caused by automobile. The CEO suggested electric vehicle, which will most likely be one or two person vehicle for short-distance operation, so called 'Micro Mobility', as an alternative solution. He also predicted that the micro-electric vehicle will bring about abundance to people's lives.
Next, I would like to introduce some of the highlights of the main sessions which are composed of 4 Strategic Direction sessions, 17 Technical Sessions, and 14 Special Sessions.
Progress has been made regarding the consideration of risks, the integration of environmental factors, and the special concerns of developing countries, leading to more comprehensive, sustainable and balanced approaches. A web-based Risk Management Manual was developed and designated as one of the outputs in the 2012-2015 Strategic Plan.
The issue of climate change is now increasingly on the agenda of the transport authorities. Climate change is an aspect of sustainability and the need to address climate mitigation through the adoption of carbon management techniques is a good example of an increasingly widespread sustainability practice. Progress in considering climate adaptation is less widespread but understanding of this, as key threat to the sustainable operation of road networks, is growing.
It is necessary to develop tools or models that are useful for decision makers to justify the prioritization of resources needed to maintain the rural road network. It has been found that the current economic analysis models are not suitable enough to evaluate investment needs for rural roads.
The design and operation of any road has a significant impact on their usage. The work that the World Road Association (PIARC) does is a key contributor to improving safety on the world's roads, and consequently the resulting various guidelines and technical reports must be circulated as widely as possible.
The development of the Road Asset Management Manual is one of the core outputs of the Association. This compendium combines the scientific as well as theoretical and practical knowledge of experts around the world in the sector of road asset management, and thereby forms a powerful knowledge base. The manual is suitable for both young engineers and senior experts as it is structured according to basic, proficient and advanced levels of asset management.
Joint events such as UNESCAP Asian Highway Working Group meeting and REAAA HORA meeting made this congress more significant and concurrent workshops and seminars enriched the substance of this event. In addition, the Beautiful Road Photo Show offered opportunities not only for the people in the road sector but also for the general public to love road more.
Road will be asked to continuously evolve as the level of expectation of the road user rises and surrounding technologies and materials develop. This kind of trends will offer the World Road Association a good reason to be a platform for global collaboration for developing and exchanging knowledge and techniques on road and road transportation.
OK.
Now, we prepared the photos of our faces and actions taken during the congress.
Let's watch!
Introducción al Plan Estratégico 2016-2019 de la Asociación Mundial de la Carretera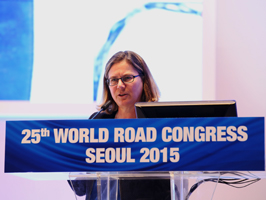 Introducción al Plan Estratégico 2016-2019 de la Asociación Mundial de la Carretera, a cargo de la Sra. Anne Marie Leclerc, ex Presidenta de la Asociación Mundial de la Carretera
Introducción al XVo Congreso de Vialidad Invernal en Polonia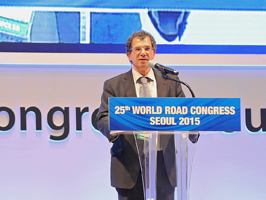 Introducción al XVo Congreso de Vialidad Invernal en Polonia, a cargo del Sr. Jean-François Corté, Secretario General de la Asociación Mundial de la Carretera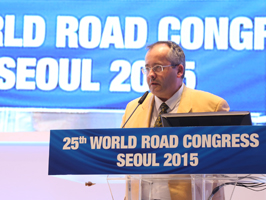 Invitación a cargo del Sr. Robin Sébille, Secretario General Adjunto de la Asociación Mundial de la Carretera
Introducción al XXVIo Congreso Mundial de la Carretera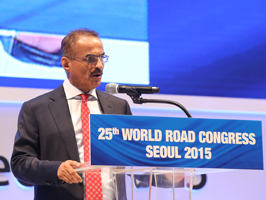 Introducción al XXVIo Congreso Mundial de la Carretera, a cargo del Sr. Jean-François Corté, Secretario General de la Asociación Mundial de la Carretera, e invitación a cargo del Sr. Abdullah Al Nuaimi, de los Estados Árabes Unidos.
Firstly, let me take this opportunity to congratulate Seoul on a magnificent World Congress and a special thank you to PIARC for providing every member access to a wealth of information and knowledge.
Mr. Secretary General, as the host nation of the 2019 World Road Congress, I deem it a privilege to be handed this opportunity to continue the legacy of the revered and esteemed World Roads Association. We will build upon the positive work carried out over the last years and aim to support the growth of PIARC membership in the MENA region.
As a nation we are eager to be at the forefront of innovation and global best practice. In a very short period of time from our country's birth in 1971, we have dared to believe and through our vision and dedication we have developed a world class transportation network that was voted number one in the world by the World Economic Forum in 2014.
The United Arab Emirates has a story to tell which we believe can inspire other nations, whilst also providing important lessons that we have learnt. We are always eager to improve our knowledge and the World Roads Association provides us with a platform to do that.
As a relatively new member, we look forward to engaging in the technical committees over the next four years and being an active member of the association. We also look forward to meeting new colleagues and making new friends.
To finish, I would just like to reiterate our sincere gratitude to Seoul for hosting the 25th World Road Congress and the World Roads Association for giving us the opportunity to host the 26th Congress.
We take great delight in inviting you to our home and capital of the UAE, Abu Dhabi and we look forward to meeting you there in 2019.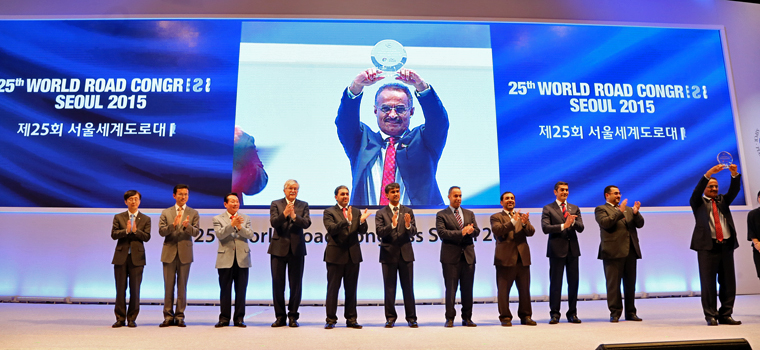 Discurso de despedida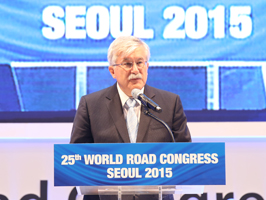 Discurso de despedida, a cargo del Sr. Oscar de Buen Richkarday, Presidente de la Asociación Mundial de la Carretera
Mr. President of the Korean Organizing Committee:
Dear delegates:
Ladies and gentlemen:
The XXV world road congress is now coming to an end. After five days of an intensive program which has included a broad array of sessions, meaningful discussions, interesting debates and a great exhibition covering a wide range of subjects of relevance for roads and road transportation worldwide, we can be satisfied that the congress has been a success.
The technical program of the congress has provided much information and opportunities for knowledge acquisition and exchange among the 3,000 participants, who have also attended the exhibition, the workshops and the activities organized at the various pavilions in great numbers.
The technical visits have been attended by many delegates, who have made extensive use of the opportunities they provided to know more about some of Korea's spectacular achievements in the world of roads, as well as to have a glimpse on some promising new technologies and innovations.
In expressing these final words of satisfaction at the results of the congress, I wish to make special emphasis on the unselfish and generous work of many road professionals worldwide who have provided their time, their knowledge and their work not only to develop and organize the many interesting sessions of the congress, but especially to gather the information and prepare the reports according to the guidelines of the current strategic plan.
As the association moves to a new working cycle that will start in 2016 and end in 2019 with the celebration of the XXVI world road congress in Abu Dhabi, let me stress again the significance of collaborative work for us.
At the world road association, we depend on the sustained collaboration of all member countries. At the same time, the proven ability of our association to engage road professionals from many countries to participate in its activities becomes its major source of strength.
The beginning of a new cycle is a good moment to reflect on the importance of collaboration and on the many benefits that participating countries receive from the work of our association. I therefore make an open invitation to all member countries to propose qualified professionals to engage in the work to be done during the next four years under the leadership of our 17 technical committees.
As I said during the opening ceremony, the association has been successful in establishing and maintaining a working structure based on collaboration from the member countries. It has also been able to react to their changing interests, needs and priorities to ensure that its products provide value to the road community worldwide. Let us keep that tradition alive with the active engagement of our member countries.
As we arrive to the final moments of the XXV world road congress, on behalf of the world road association let me first of all thank our Korean hosts, and in particular the Korean authorities and the Korean Organizing Committee, for their efforts and commitment in organizing this meaningful event.
Let me also thank the secretary general, Jean Francois Corté and his staff for the preparation and implementation of the technical program, which once again has provided a comprehensive and up-to date view of currently relevant topics for roads worldwide and which has offered quality options to all participants.
I would also like to express my deepest recognition and appreciation for the work done by talented road professionals from many countries who have acted as technical committee chairs and secretaries, as strategic theme coordinators and in various other capacities that have made the congress possible.
Together with the secretary general's office, these individuals have also been instrumental in producing the many reports, guides and information tools of our association.
Finally, I express my sincerest thank you to those of you who have made the congress possible: simultaneous translators, protocol staff, exhibitors and other COEX personnel have allowed the congress to proceed as initially expected.
Of course, my last words of gratitude are reserved to all of you attendees who have come from more than 115 countries of the world and who have participated in the congress program throughout its five days.
Thank you again to all, thank you Korea and see you in Abu Dhabi in September 2019!
Clausura oficial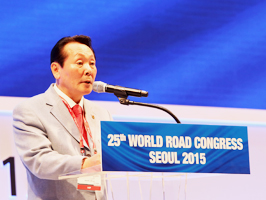 Clausura oficial, a cargo de Hak-Song KIM, Presidente del Comité de Organización Coreano

Ladies and Gentlemen, I am Kim Hak-song, Chairman of the Korean Organizing Committee of the 25th World Road Congress.
It is time for us to conclude our 5 day journey and wrap up the 25th World Road Congress Seoul. This Congress was held under the theme 'Roads and Mobility - Creating new value from Transport.' This Congress helped us reaffirm our dedication and passion for creating new values for a better future.
At this very moment, so many countries around the world are heavily investing in a sustainable road transport network including ITS. Korea is also putting its utmost effort in its research in establishing a safe and sustainable road transport system. I am confident the Seoul Congress held at this critical moment served as an opportunity for our global roads and road industry to take a leap forward.
As this event finally comes to a close, I would like to give a brief overview of the results from the 5 day event. This Congress was attended by about 35,000 people from 120 countries and 380 papers were presented at the 44 sessions. Also, about 190 exhibitors displayed their latest technologies and products at the Exhibition hall.
This event is all the more meaningful as it yielded substantial results such as a number of bilateral meetings and business-matching opportunities. Furthermore, it helped raise the general public's awareness of the role and significance of roads and road transport. In this regard, I believe that this Seoul Congress helped people to have high expectations and hopes for the future road transport system.
In closing the Congress, I would like to express my sincere respect and appreciation to the Council, Executive Committee and Secretariat of PIARC for their support and encouragement.
Dear participants who traveled from far away to attend this event, I hope this will leave you with stunning results and lasting memories of our country and our friendship.
Now it is time for me to say goodbye to you. I look forward to seeing you all again at the 26th World Road Congress Abu Dhabi.
Dear our road professionals from around the world,
I was thrilled to meet all of you. Have a safe trip back home. I appreciate your hard work.
Thank you.